Geography
Geography at Kilnwood Vale
At Kilnwood Vale, the children are inspired to be fascinated about the world around them, asking questions to find out more and make links in their knowledge. Our Geography curriculum encourages independent learning, working collaboratively and to learn more about people and places. Children develop their knowledge and skills, understanding more about our rich cultural, moral and spiritual world.

Our intent is to inspire, nurture and enable all children to develop geographical understanding, apply this knowledge and speak confidently about their learning. Teaching is stimulating, exciting and provides the children with key life skills such as teamwork, empathy, communication, language, thinking and independence skills which will develop them both academically and socially.
Further information on our Geography curriculum will be posted here soon.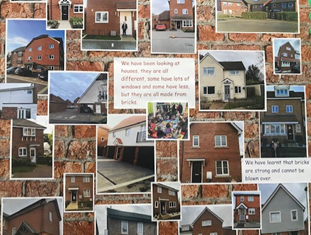 Living on Kilnwood Vale, our children are used to seeing new houses being built. Through local walks and exploration, they have been learning more about where they live, their houses and the materials and machines used in building Kilnwood Vale.